Reusable
R-P Products reusable bags are made of tough, woven fabrics that won't shed and contaminate your process, even during high-flow filtration. They're so strong you can clean and reuse them.
Fabric bags made of polypropylene and nylon are equipped with molded tops and handles made of the same materials. The molded top is part of the non-bypassing design, while the handles are designed to provide quick and easy bag removal from the housing.
Because polyester, Teflon, and Nomex reusable bags are designed for high temperature applications, a sewn-in stainless steel ring replaces the molded top and handles.
Disposable
For applications where reusable media are impractical, R-P Products offers a line of disposable filter media.
The bonded nylon bag has a molded nylon top flange with handles for easy bag removal.
The expanded area bag, made of bonded polyester is a pleated medium that offers 2,622 sq. in. of surface area. This means you get greater solids loading capacity and extended run times. The media is permanently bonded to a tough, molded seal at top and bottom to prevent bypassing. The bag is also equipped with handles for ease of removal and replacement.
Bag filters equipped with R-P Products high performance bags are an ideal replacement for high performance cartridge filters.
In certain applications, even disposable media can be cleaned and reused, such as when filtering sand or other hard, non-sticky solids.
Permanent
R-P Products woven wire mesh baskets are inherently strong and chemically resistant becasue they are made of 316 stainless steel. To add to the strength and to provide long service life, the woven wire mesh inlay is permanently welded to a 316 stainless steel perforated support basket.
For removing coarse particles from liquid streams, R-P Products offers a perforated strainer basket made of 316 stainless steel. The basket provides low pressure drop and high solids capacity because it has over 475 sq. in. of surface area.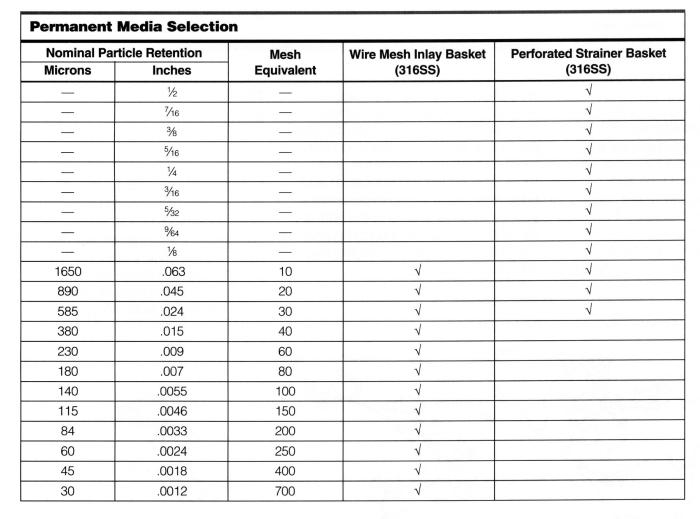 | | | |
| --- | --- | --- |
| De-Mar & Associates, Inc | Kansas City Phone: 913-381-6810 | Kansas City Fax: 913-381-9332 |
| Parker & Foster Division | Wichita Phone: 316-794-2686 | Email: pfinc@birch.net |